What is a honeycomb paper corner brace?
Paper honeycomb corner brace is a material with a structure similar to honeycomb (this is the main reason why it is called another honeycomb paper) whose core is made of recycled paper, then covered with 2 layers of paper or fiberglass create different thicknesses according to customer requirements.
Paper honeycomb corner brace  is made from many layers of test/medium paper back together with a thickness of 3mm – 7mm very hard, machined and firmly bonded together to create a 90° angle. Reinforced honeycomb paper clips, protect corners and edges of products inside during transportation, against damage, chipping and chipping.
Unlike other ordinary supports, the paper honeycomb brace is light in weight, very easy to install and apply.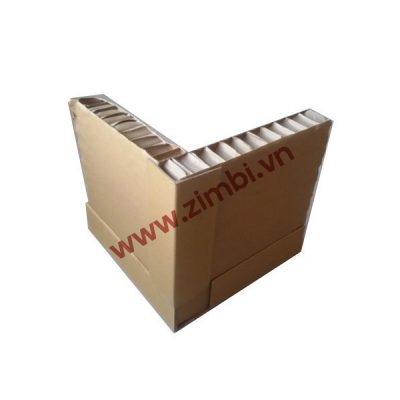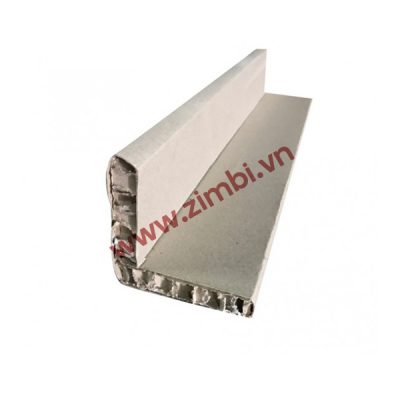 Paper honeycomb corner braces are available in different sizes and thicknesses. There is an enhanced version of the accessory that can bear up to 50 Kg/sq.
Specifications of honeycomb paper splint:
Số lượng đặt hàng tối thiểu
Kích thước & Thiết kế

Dài x Rộng x Cao

  Theo sở thích của khách hàng

Độ dày
Kích thước tổ ong

6mm (Độ bền cao)
10mm (Đệm tốt hơn)
Application of paper honeycomb corner brace
Protect corners and edges of products
Support control.
Electronic components.
Tempered glass panels.
Speaker System.
Furniture.
Ceramic furniture.
Automotive Parts.
Furniture assembly parts, …
Advantages of paper honeycomb corner brace:
The product is the best substitute for thermal foam board & foam board.
Custom design ensures an exact fit of the product.
Easy and safe to handle and use.
Paper honeycomb braces are cheaper to buy, transport, and pack.
In addition, the structure of the core is completely made of recycled paper, which is biodegradable, so it saves input materials and does not need to be processed after use.
Cost savings: Many businesses prefer these lightweight materials over plastic and wood because it can reduce both direct and indirect costs.
The paper corner clip has a simple but strong design, using no screws or hard materials, so it leaves no marks on the product it protects.
Wide range of sizes and pressure load capacities.
The brace is also easy in the process of use and construction.
100% biodegradability.
Light weight: Compared to wood and concrete, honeycomb paper is a great alternative, especially when it comes to packaging and construction applications. This material is 4-5 times lighter than wood and 10 times lighter than concrete. But honeycomb paper splints have the same bearing capacity as wood and concrete.
Contact us immediately for advice on honeycomb paper splints:
Zimbi . Co., Ltd
phone number: 0904 102 539 (Mr.Khánh)
Email: kinhdoanh@zimbi.vn
Website: https://zimbi.vn
Facebook: https://www.facebook.com/sanxuatgiaytoong
Youtube: Xem tại đây