What is a 3-layer carton??
When the manufacturing industry is growing, it is very necessary for carton packaging to contain products or items to transport long distances and serve human needs. And surely in every family you often come across cartons. Cardboard boxes are very convenient to use and are chosen by many families to store things. 3-layer carton is the most commonly used item.
Most types of cartons are made from mainly wood fibers, 3-layer carton is no exception, the structure of the carton consists of 3 layers of paper.
Outer layer of paper: Made from smooth, smooth, non-ripple paper. Paper can be white, brown or yellow.
Middle layer of paper: Usually made of soft paper, they are formed by grooves, also known as corrugated paper layers. The function of this paper layer is like a layer of padding for the carton against external shocks, increasing its ability to endure when storing and moving. Depending on how big or small the waves are, the tolerance is also different.
Bottom paper layer: This layer of paper can be a layer of plain paper, it can also be a layer of hard paper or crepe paper. They play a supporting role. The paper has a weight of almost 2 times that of the outermost layer of paper.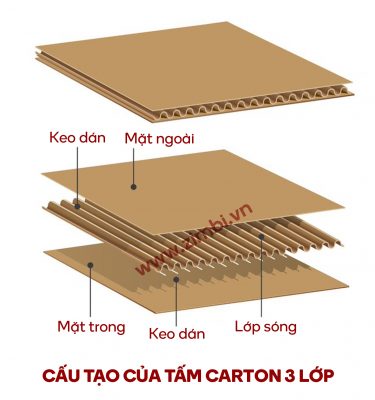 Advantages of 3-layer carton
Relatively inexpensive to manufacture and use.
Light weight, easy to cut or bend.
Resistant to compression, good porosity.
Diverse designs, models of boxes or boxes.
Rich colors printed with Flexo & Offset printing technology.
Supports multiple assembly styles (stapling, gluing, snapping).
Compact, easily folded flat storage.
Good food protection, good waterproofing (waterproof lamination).
Easy surface coating, easy embossing (box).
Easy to repair, change the original style.
Easy to handle, regenerate.
Easily biodegradable, environmentally friendly.
Application of 3 layers carton box
In every manufacturing industry. Almost always see the presence of cartons and cartons to close tools and equipment. The 3-layer tool/equipment carton not only helps the goods to be preserved, but also allows the printing of standards and shipping notes. And especially all the necessary information about the production unit. Better PR for the brand itself.
With cheap 3-layer tool/equipment carton in particular. It is manufactured as a product container mainly for light industry. Contain light goods, less affected by impact. Due to its overall resilience is not really high.
Tools/equipment items are the most susceptible to damage in transit because most electronics are hydrophobic and impact resistant. However, some businesses do not know how to choose cartons for packaging, which leads to the situation that when the goods are delivered to consumers, they are broken or dented, affecting the reputation and brand of the business. Therefore, the 3-layer tool/equipment carton is designed with many layers, alternating layers of waves, which are arranged in a reasonable manner. This increases elasticity and excellent shock resistance, making your products safer and more secure.
The 3-layer tool/equipment carton is usually used to hold TVs, speakers, amplifiers, and other electronic devices.
Although it is a product that specializes in storing tools/equipment, businesses should also pay attention to the size because there are many types of electronics with many different sizes, so businesses should clearly ask for the manufacturer. The manufacturer can produce the right carton products. Do not use a box that is too wide, as it will make the product easily bumped when it reaches the customer. Besides, you should choose paper with certain toughness, to make sure that on the way it is difficult to be affected by sharp objects.
Customer support policy
Quality products as well as diverse samples promise to bring customers when using our services will be completely satisfied and satisfied.
Our door-to-door delivery policy brings absolute convenience to our customers.
Free consultation on selection of suitable packaging samples for customers.
We are proud to be one of the locations providing services with the best prices currently.
Zimbi .'s workflow
Step 1:  Zimbi directly consults on the spot or consults by phone.
Step 2:   Discuss product design ideas according to customer requirements.
Step 3:  Customers proceed to browse samples according to product size or shape.
Step 4:  Finish the sample and proceed to produce the product.
Step 5:  Fix the delivery location and time.
To choose a supplier 3-layer carton, 5-layer carton, 7-layer carton, honeycomb paper, paper splint with high reliability, cost savings, increased competitive advantage in supply Timely enough goods for businesses is not easy.
Understanding the needs on Zimbi specializes in providing all kinds with professional workflow. Come to us to experience quality services.
Contact us immediately for advice on honeycomb paper core:
Zimbi . Co., Ltd
phone number: 0904 102 539 (Mr.Khánh) hoặc 091 790 4224 (Ms.Thảo)
Email: kinhdoanh@zimbi.vn
Website: https://zimbi.vn
Facebook: https://www.facebook.com/sanxuatgiaytoong
Youtube: Xem tại đây