Honeycomb paper (GTO) is a type of paper with a honeycomb-like structure – consisting of an inner part called the core and two outer paper sides (Kraft / Surface paper) forming a paper of different thicknesses. according to customer needs.
The inner core of the paper has a solid structure similar to a honeycomb, so it is called honeycomb paper. Produced by the method of recycling paper so the product environmentally friendly, non-toxic, biodegradable.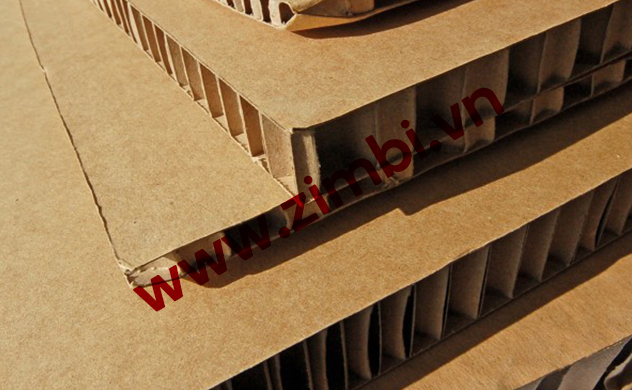 Advantages of Honeycomb Paper:
Very high strength, has strong impact resistance. Therefore, honeycomb paper is very suitable for preserving fragile goods such as glassware, ceramics, electronic components, works of art …
In addition, using  honeycomb paper contributes to environmental protection. Because the paper material is environmentally friendly, it is easy to reuse many times and is non-toxic. This helps businesses fulfill their social responsibility and limit waste to the environment now and in the future.
That is the outstanding advantage of making honeycomb paper products very popular in developed countries in production and protection of goods.
Properties of honeycomb paper
The product realizes the superiority of a very potential material:
Sure.
Compact.
Good moisture absorption.
High impact resistance and good elasticity.
Suitable for enterprises producing and processing export goods.
Enhance the value and image of the product with a simple message and protect the environment.
Fast decomposition, no pollution to the environment and human health.
Honeycomb paper can be reused many times.
It is 100% recyclable to make paper materials after use.
How to produce honeycomb paper?
The honeycomb paper production process is divided into 3 main stages:
Stage 1 –  Running the honeycomb core:  includes keogluing, pulling the core, cutting to the size and thickness of the finished honeycomb paper.
Step 2 – Connect the core and 2 sides of the paper:  glue the two sides of the core paper to surface paper, then glue and dry.
Stage 3 – Cutting finished products:  Cut to the required size of the customer  (length x width) and close the finished product.
Application of the product
Paper honeycomb is widely applied in the fields and industries:
Used as packaging material.
Paper box for goods.
Insert into goods instead of plastic air bags.
Crafted into sturdy paper pallets with the same durability as traditional wooden pallets.
Used in the field of construction (doors, shelves ..) and interior decoration, architecture, gifts …
With a solid structure like a honeycomb, the product sảnis gradually going deeper into industries such as:
Wood industry, handicrafts: using honeycomb paper to make cabinets, tables, chairs, … decorative objects, saving costs, increasing usefulness.
Decoration industry: MDF honeycomb panels, veneer honeycomb panels, decorative panels, steel honeycomb panels, aluminum honeycomb panels, fireproof honeycomb steel panels… applicable to decorations, furniture, doors, furniture, acoustic/light partitions, floor mats, interior trim panels of ships, vehicles
Packaging and packaging industry: honeycomb paper for pallets or solid crates and packages
Mechanical industry: applied to the core of doors, tables and chairs or partitions. Outside the honeycomb paper core will be covered by MDF, wood imitation paper, aluminum plastic
Construction industry: this is a new, modern, economical and economical solution. Paper honeycomb is used as soundproof, heat and light insulation partitions.
Exporting ceramics industry: using paper pallets to transport between production stages and packing for export. Due to the very high bearing capacity during transportation.
Contact us immediately for advice on honeycomb paper:
Zimbi . Co., Ltd
Phone number: 0904 102 539 (Mr.Khánh)
Email: kinhdoanh@zimbi.vn
Website: https://zimbi.vn
Facebook: https://www.facebook.com/sanxuatgiaytoong
Youtube: Xem tại đây