The export heavy duty octagonal corrugated carton uses imported American wood pulp and imported seven-layer AAA corrugated cardboard as raw materials. It refers to a carton made of high strength, reinforced special corrugated cardboard, because its price is significantly lower than wooden box, no need fumigation for export, environmental protection, strong recyclability, quick and convenient packing and unpacking operation, and bearing capacity It has high compressive strength and good cushioning performance, so it is specially used to replace traditional wooden boxes. In recent years, it has been widely used in the product packaging of high-end industrial chains. packaging, fruit and vegetable packaging, auto parts, aviation and motorcycle parts. Cars, scooters, tools, electrical appliances, machinery, large civil appliances, military supplies, etc.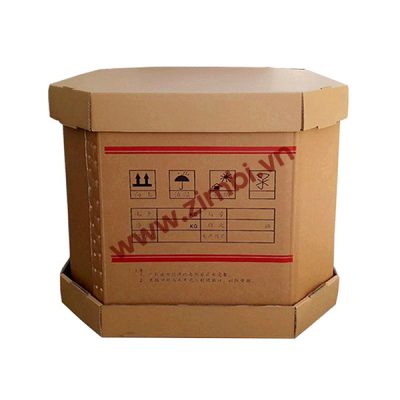 5 advantages of exporting heavy duty octagonal cartons:
1. Heavy duty export octagonal carton with high strength. Due to its unique mechanical structure, Zimbi payload octagonal carton has strong compression and bending properties. The test proves that the longitudinal compressive strength of the paper formed into the octagonal carton is 100 times heavier than in other directions. The 1 gram weight of rectangular Mica paper can withstand 800 grams of pressure without deformation. The compressive strength of the 7-layer corrugated board is 5-18.9t/m2, which is 20-75.6 times that of the five-layer corrugated board, and its bending deflection is twice that of the inner five-layer corrugated board in the horizontal direction and is equal to 59.3 times vertically.
2. Export octagonal heavy duty carton with good elasticity. The thick triangular carton is due to the characteristics of the inner core paper, so the elastic band changes when subjected to external forces, so it has strong impact resistance, no need to add polystyrene foam when packing plastic goods. Tests show that the failure rate of all products packaged in US card cases is reduced by more than 1 times.
3. Heavy duty export octagonal carton. The tested 7-layer corrugated board has a load capacity of 0.5-3t/m2, 2-10 times that of the 5-layer corrugated board, and can replace solid wood panels. Packaging weight from a few kilograms to tens of kilograms, if the weight of American cardboard is increased, it can even carry several tons of overweight goods.
4. Export heavy octagonal carton with light weight. Due to the structural characteristics of heavy American cardboard, the material used is only 3% -6% compared to solid board of the same area and thickness. Using 1 square meter of 5.1mm thick 5-layer cardboard can be used as a 10mm board 1.44m2 thick; The weight of the Meka cardboard box is only 2/3 of the weight of the corrugated cardboard box of the same specifications, with 1/3 of the weight of the wooden box.
5. Exporting heavy octagonal cartons will not pollute the environment. When packing valuable and fragile goods, heavy duty cartons all use paper and cardboard as the lining, instead of polystyrene foam, which does not cause "white" industrial pollution. The heavy cardboard of the paper is fully recyclable as pulp, if discarded will completely rot and decompose in nature, is green packaging material.